The week following the NEPCX series final in New England had me working two more days in my temporary Arlington office before finally settling into my newly renovated Cambridge office on Wednesday. It was fantastic to be settled into one place. It seems as if I have spent the entire Fall moving in and out of offices and traveling to races every weekend in between. Phew!
Matt and I were both in need of putting in a solid full work week, so we planned to fly to the USGP finals in Bend, OR on Friday, race Saturday and Sunday and take a redeye flight home Sunday night. Our plans included staying at the Mt Bachelor condos and having our Portland friends, Dan and Addie, join us for the weekend. The USGP finals have been in Portland for the last two years with Nationals in Bend the following week. Although we were a bit sad to miss out on spending an entire week at Dan and Addie's house, it was great to have them for a quick 48 hours.

We arrived in Bend on Friday in time to hit the course for a pre ride and check out the conditions. The venue for the course is nestled in between a grassy park, the Deschutes Brewery and a new shopping development. The course is situated on what could be described as an abandoned lot or a yet-to-be developed area of excavated earth. Squeezed in amongst the vendors are the most interesting features of the course (the flyover and stairs). The track then crosses onto the grass in front of the Brewery. The remainder of the course weaves through front-end loaded dirt piles on a loamy/dusty track and through a sparse stand of Ponderosa Pine trees (which smelled really good on one section of the course). Unlike the previous two years, Bend had been experiencing an unprecedented warm and dry spell. The course would be dry and dusty all weekend long.


As expected, the course was dry, very dusty and the ground had several sections of very hard ground with lots of loose gravel. During my pre-ride I managed to test the limits of speed on the course by hitting the deck on a loose gravel corner. Fortunately, I got off with only some bruising and a scrape to the knee. I did however swap to more aggressive tires to have more traction for Saturday's race.



In addition to my racing obligations for the weekend, my clothing sponsor, Castelli, had contacted me about doing a photo-shoot for their Winter 2012 catalog. It was quite an honor to be asked to be in a catalog! We made arrangements to meet up on Saturday morning to head to beautiful Sun River for the shoot. It was 15 degrees but luckily I was modeling some of their fantastic winter jackets. Greg kept his car "sauna hot" for me to warm up in between takes and John and Joel toughed it out in the cold to perfect the shots. These guys are real perfectionists and were great to work with. I hope my eyes were open in the photos - it's a trend of mine to be "sleeping" in photos!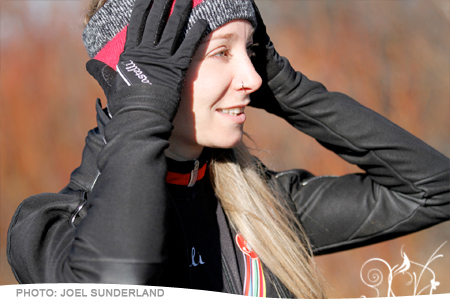 Back to racing. My start was okay but not great. It was definitely a course where the first lap was the most important lap and I didn't quite nail it. I had to work pretty hard to pass people and move up in the field of racers.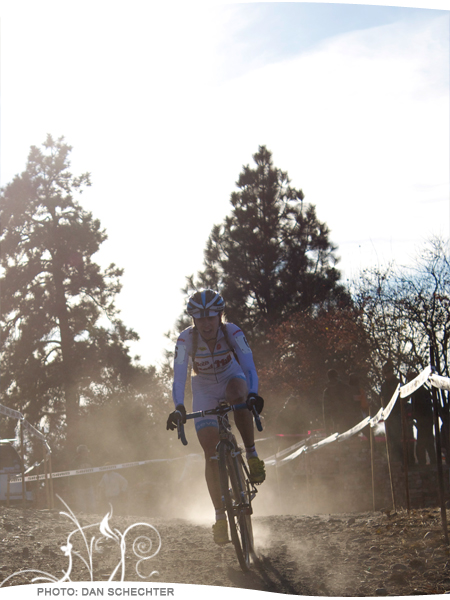 I felt comfortable catching up on the turns and the set of stairs but the rest of the course was super-fast and made for difficult for passing. I worked my way up to just outside the top 10 and finished 11th. Considering our hectic flight schedule, I was fairly satisfied with my result, feeling a lot more open coming into the last few laps.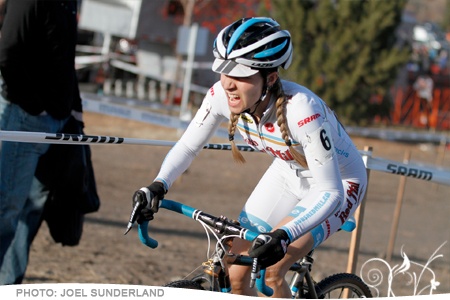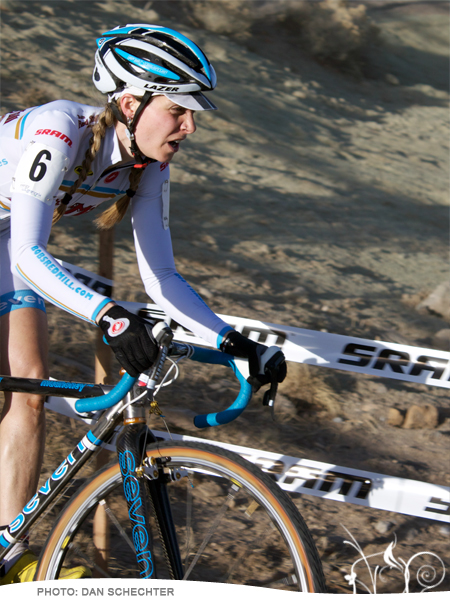 That night we headed out into Bend for dinner at Joolz Restaurant for Dan's birthday. We had a great meal and fantastic time relaxing with our pals. Happy Birthday, Dan!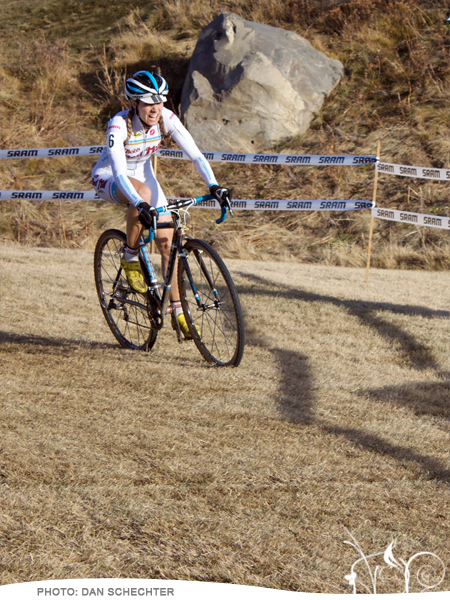 After Saturday's race, I knew it would be important to have a better start because of the difficulty making up time on the fast course. There were a few changes to the track, but overall the feel of the course was the same, FAST! The temperature was also very cold on Sunday with highs around 23 degrees.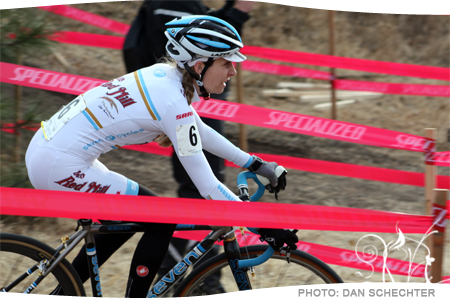 A good start had me in the top five for the first few laps of the race, accelerating on every bit of pavement and flat grass section to stick with the riders in front. On the paved start/finish stretch, a split formed and I was alone in fifth for a while but knew that sixth place was soon to catch me.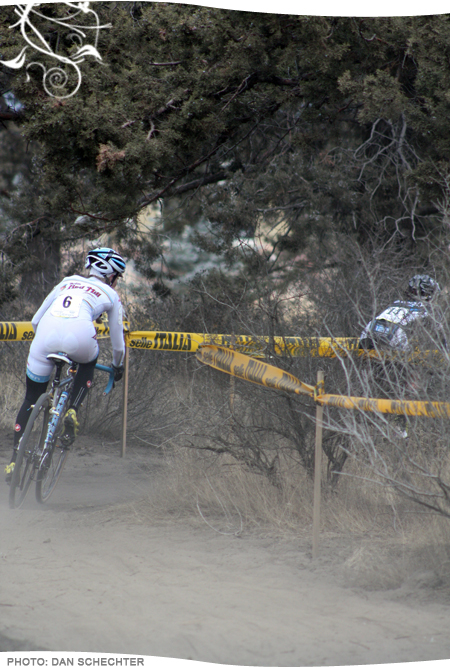 I dug deep but knew I wouldn't be able to hold my position alone for three more laps. A group of four was very close behind me and chasing hard. I was able to make a pass on one of the riders that caught me but three more were working together and were able to catch me in time for the last lap sprint finish. I was 9th in the end and although I would have preferred to have stayed in 5th or 6th place, I am pretty sure that is the hardest I have ever ridden my bike for 40 minutes.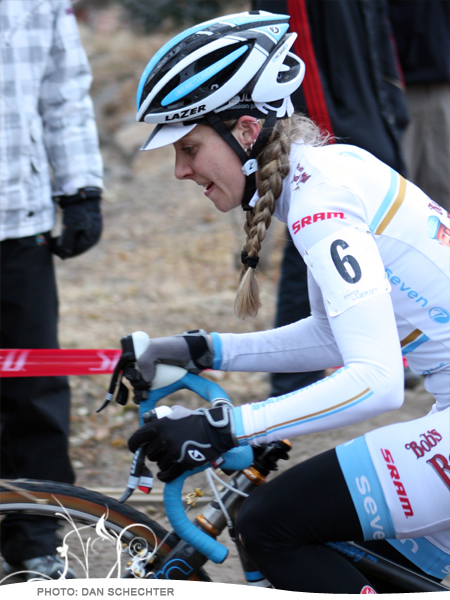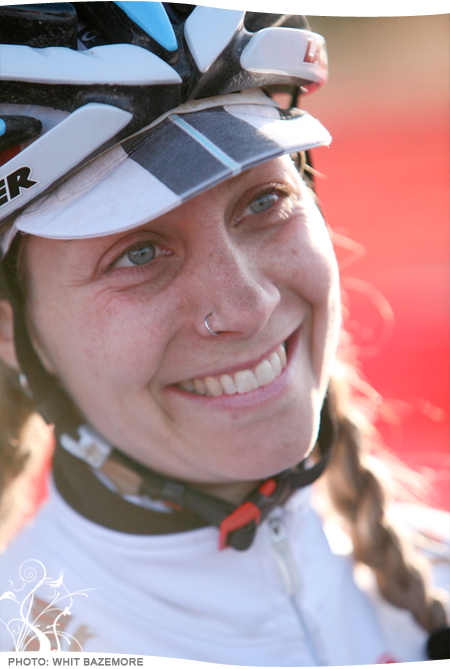 After my race, I joined Dan and Addie and watched the men's race while Matt worked for the Cannondale Cyclocrossworld Team. The temperature had dropped quite a bit so we hung out by the fire pits to keep warm and pet all the cute dogs that walked by.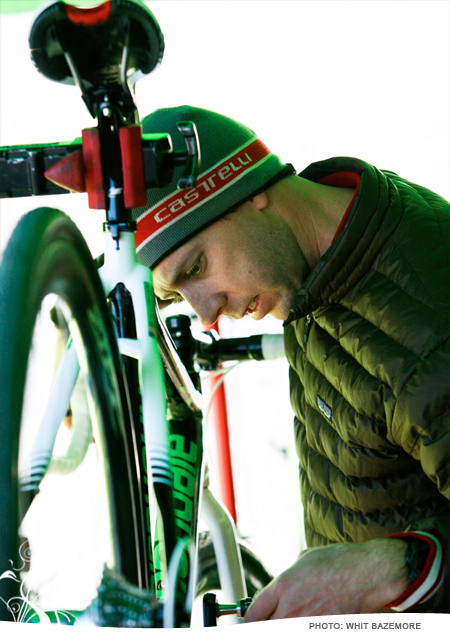 Dan and Addie headed back to the condo to watch football while Matt and I packed up my bikes and wheels to get ready to head to the airport. We were able to make a quick return to the condo to say goodbye to our pals and headed home. We were about to squeeze in three more workdays before a 11-day trip to Belgium for 5 more races! In fact, by the time we send this, we'll already be in Belgium… more on that soon.



While I'm hoping to be ankle deep in mud at the races in Europe, we're all neck deep in the holiday season. In case you missed the MMRacing 12 Days of CXMas in the last newsletter, we've highlighted twelve of our sponsors to give you some great gift ideas for the cyclist, superfan or even the baker in your family.

If you are still looking for a perfect gift be sure to click here to check out our gift guide!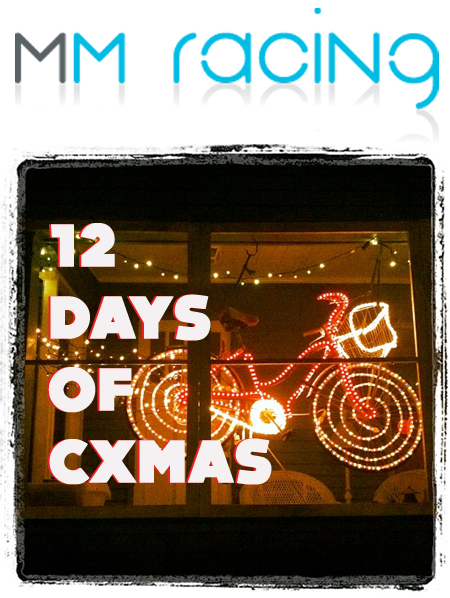 Just as quickly as we arrived back home from our whirlwind weekend, we're off again on Thursday. This time we're headed to Belgium for eleven days and five races, including two World Cups! We're heading back to the same cottage we have rented for the last two winter trips and it will be nice to see our Belgian host family again.




Deschutes Brewery Cup, Day 1
Cyclingnews - Day 1
Velonews - Day 1
Podium Insight photo gallery - Day 1
CXMagazine photo gallery- Day 1

CyclingDirt's video coverage of Day 1 can be seen below.
Watch more video of USGP Deschutes Brewery Cup 2011 on cyclingdirt.org

Deschutes Brewery Cup, Day 2
Cyclingnews - Day 2
Velonews - Day 2
Velonews photo gallery- Day 2
Podium Insight photo gallery - Day 2

CyclingDirt's video coverage of Day 2 can be seen below.
Watch more video of USGP Deschutes Brewery Cup 2011 on cyclingdirt.org

Thanks for the amazing support of Bob's Red Mill, Seven Cycles, SRAM, Mavic, TRP, Challenge, Lazer, Fizik, Mad Alchemy, Thule, Castelli, Zipp, Vita Coco, Fitness Together Arlington, Franson Family Chiropractic, Ryders Eyeware and Restwise.

If you just can't get enough MM Racing, you can follow us on Twitter.
Matt: @mm_racing, Mo: @meaux_marie.

Thanks for reading!